"If it wasn't for The Cii I'd still be sat at home without a job."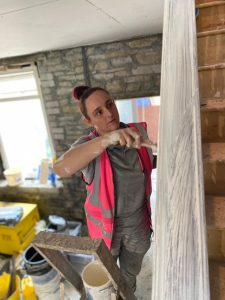 Steph was one of the first to join our Building Resilience in Communities project in Clyne, Neath. Living in Resolven, Steph had seen our project advertised on Facebook and decided to get in touch. Her main reason for joining us was to keep herself busy and improve her mental health. Although Steph previously had various short-term jobs, she hadn't found anything meaningful to do full-time.
Steph was looking forward to learning new skills to help her maintain her own home, whilst access some advice and guidance in order to decide on a career path that was right for her. She quickly took to the project activities and got along well with the tutors and other participants. Steph had a great attitude to work and was always the first to cover absences on the project.
Throughout her time on the project, Steph had recurring issues with her rented accommodation and was at one point faced with eviction. With the support of our Engagement & Wellbeing Officer, Abi, and Shelter Cymru, she was able to navigate the situation in the correct way.
Often bringing in hot meals for the participants, Steph took on a positive mentoring role which led to her building a close group of friends. Building upon her new-found confidence and improved self-esteem, Steph achieved the Level 3 Emergency 1st Aid in the Workplace qualification, took part in CITB Health & Safety Awareness training, and passed her CSCS test. All whilst taking part in additional online courses at home.
Following her time with us, Steph successfully gained a full-time job with Paragon in Resolven, building roof trusses, as well as carrying out DIY projects at home.
If you'd like to follow in Stephs footsteps and join our next project, contact us today.