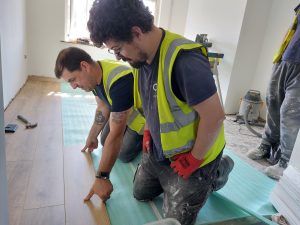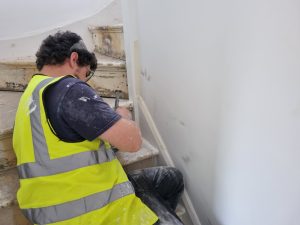 Tim had worked in previous retail roles before he lost his job due to Covid, and with it, he lost a lot of his confidence. Whilst at home during the pandemic, he spent his time doing DIY around the house and decided he'd like to train for a career in property maintenance.
Tim was proactively looking for a training project to help him learn new skills and boost his confidence. He joined our Building resilience in Communities programme in Glynneath last August after coming across our poster in Remploy. After speaking with our Engagement and Wellbeing Officer, Abi and discussing what he was looking to gain from joining the project, he decided to sign up.
Having to navigate a global pandemic and a diagnosis of Autism, Tim's confidence was low. When he joined us, he was very anxious but excited to get started and meet new people. Tim quickly took to the project activities and got along well with the tutors and other participants. His positive attitude to work meant he was a pleasure to work with.
Working with our Engagement & Wellbeing Officer, Abi, Tim achieved the Level 3 Emergency 1st Aid in the Workplace qualification and passed the CSCS test first time. He has successfully found part-time employment with a local retailer and is looking for a work placement for the future to help him reach his career goals.
"I just want to start off by saying thank you for everything. It's helped massively with my confidence."
Congratulations Tim!
If you'd like to follow in Tim's footsteps and join our next project, contact us today.